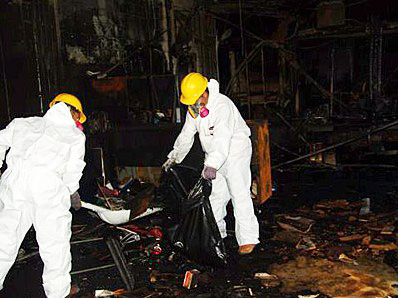 Immediately following contamination it is essential to stabilise the condition of affected equipment and the environment where the equipment is located, in order to minimise the risk of further contamination or damage. Following stabilisation a detailed inspection of the equipment can be carried out to assess the degree of damage and recommend recovery options.
Beware of equipment representatives who will attempt to prove equipment is damaged beyond economical repair by switching it on to verify that it is non functional. Any short circuit damage that occurs as a result of the equipment being switched on prior to decontamination is directly attributable to the person who switches the equipment on and is not generally a consequence of the event that caused the contamination. If the equipment is properly decontaminated prior to being switched on, then short circuit damage will not occur.
Regenisys Ltd provides a 24 hour 7 day response to client inquires and incidents. Our technical advisors are available at all times to provide immediate initial assistance as well as onsite assessment and recovery.
If in doubt about what actions to take – call the experts.
Self Help Following a Disaster
Our downloads page contains several useful articles on equipment restoration, including a comprehensive guide to what can be done to limit further damage immediately following a disaster event